A society without a grounding in ethics, self-reflection, empathy and beauty is one that has lost its way.
(Brian Rosenberg)
OCTOBER 4, 2021
New book on evaluation, in French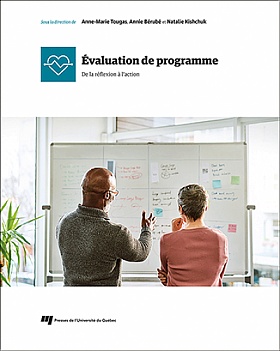 Anne-Marie Tougas, Annie Bérubé and Natalie Kishchuk recently published "Évaluation de programme, de la réflexion à l'action" at Presses de l'Université du Québec. Benoît Gauthier, of Circum, collaborated with Natalie Kishchuk in the preparation of a chapter entitled "Useful evaluation: determining factors and winning strategies".
The promotional sheet of the book presents it as follows: (our translation)
How to effectively mobilize the available knowledge for the benefit of the development, adaptation and sustainability of interventions or services offered in a practice environment? While this question may put off the novice evaluator, as well as the manager concerned about the quality of his programs, this book is responsible for providing them with tools by combining reflection and action for the benefit of a rigorous professional practice of program evaluation. Written by specialists from various backgrounds, this book will be of interest to graduate students, stakeholders and administrators from different fields (education, health, social services, community) who wish to develop the knowledge and skills necessary to take part, closely or from afar, to a program evaluation process.
Based on an integrative vision of practice, fully consistent with the competency framework of the Canadian Evaluation Society, this work brings together theoretical and concrete content that guides the evaluator in the exercise of the roles that they can play to support the various stages of a program's deployment, ranging from the assessment of the needs that guide its design to the evaluation of its effects. It pursues the ultimate aim of contributing to the training of ambassadors of a culture of evaluation within public organizations.
As for the chapter by Kishchuk and Gauthier, it aims to make the reader capable of implementing conditions conducive to the usefulness of evaluation for stakeholders. It postulates that the primary reason for the existence of evaluation is to be useful. It exposes the reader to the different types of utility and a range of factors that affect utility and use, from simple technical considerations to more strategic ones. It cautions against the inappropriate use of evaluation.