JUNE 19, 2014
A New President for the Canadian Evaluation Society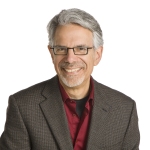 Benoît Gauthier will become President of the Canadian Evaluation Society (CES) as of July 1, 2014.
After working in the background of CES operations for twelve years as webmaster, three years as member of the Credentialing Board, and eleven months as Transitional Vice-President of the Professional Designation Program, M. Gauthier has gained an in-depth understanding of CES as an organization. As president of CES, his main goal will be to support enhanced presence, understanding, and utilization of evaluation practice in the strategic and operational dialogues in public, not-for-profit, and private organizations.
In order to reach that goal, Mr. Gauthier proposes to emphasize three pillars in the Society.
The first pillar is the professionalization of evaluation practice. Professionalization was central to the initiation of the Professional Designation Program in 2009-2010. Since then, the Credentialed Evaluator (CE) designation has soared as a key demonstration of evaluators' commitment to their profession. Benoît wants to make the CE designation a focal point of CES' activities.
The second pillar is to attract as many of the working evaluators as possible into the Society where they can benefit from a supportive professional environment. CES needs to increase the value it brings to its members. The routes to that result are to develop new services, to reserve some of the existing services to members, and to offer CES services in French more systematically.
The third and final pillar is a strong, agile, engaged, structured, and vocal Society. According to Benoît, CES needs to maintain a high level of organizational efficiency. It needs action plans that are lined up with its strategic objectives. It needs right-sized and well-fitting information systems to inform decisions. It needs antennas on the ground to identify and to seize opportunities as they arise. It needs to keep increasing the involvement of volunteers in working committees.
Mr. Gauthier hopes that with hard work and the collaboration of the Canadian evaluation field, significant progress can be made in these three areas over the span of his two-year term.